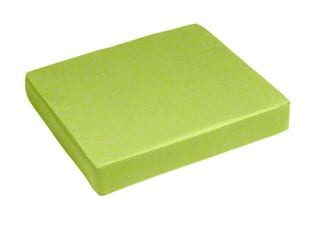 New Indoor Lounge Cushions are a perfect way to revitalise an old lounge that has seen better days or just needs a facelift.
Re-covering existing lounge cushions are a specialty for Cushion Factory. And with new, longer lasting, more durable cushions, your furniture and cushions will last a very long time, GUARANTEED!
Choose from any one of our fabrics or for a combination of a few different colours as some of our clients show in their photos in our photo gallery.
And if your cushion just isn't as soft as it used to be, why not select a comfortable, yet supportive foam? We recommend furniture foam for an indoor or alfresco lounge cushion or outdoor, quick dry foam for an all-weather situation.
Why not add a few coordinating throw pillows as well?
Need inspiration? Check out our Gallery page
Why Cushion Factory?
Because we are Australia's cushion specialists. Any style. Any shape. Any Size.
All our products are covered by a guarantee
We can usually make your cushions in just three weeks
We have a proven track record, providing outstanding service to both residential and commercial clients
We strive to exceed your expectations, with a customer service team available to answer all your queries
Our products are Australian-made, so you know you are getting the best.
Additional information
| | |
| --- | --- |
| STEP 2: CHOOSE PIPING OR NO PIPING | No Piping, Premier Prints Outdoor Aiden Oxford, Premier Prints Outdoor Aiden Pineapple, Premier Prints Outdoor Alex Oxfordgray, Premier Prints Outdoor Alex Sandgray, Premier Prints Outdoor Alex Yellowgray, Premier Prints Outdoor Arrow Beechwood, Premier Prints Outdoor Aruba Citrus Yellow, Premier Prints Outdoor Arrow Cavern, Premier Prints Outdoor Arrow Cobalt, Premier Prints Outdoor Arrow Ocean, Premier Prints Outdoor Arrow Oxford, Premier Prints Outdoor Aruba Gray, Premier Prints Outdoor Aruba Pacific, Premier Prints Outdoor Berlin Bay Green, Premier Prints Outdoor Berlin Sand, Premier Prints Outdoor Berlin Yellow, Premier Prints Outdoor Bird Silhouette Cavern, Premier Prints Outdoor Bird Silhouette Indian Coral, Premier Prints Outdoor Bird Silhouette Ocean, Premier Prints Outdoor Blooms Citrus, Premier Prints Outdoor Blooms Pacific, Premier Prints Outdoor Blooms Salmon, Premier Prints Outdoor Caicos Orange, Premier Prints Outdoor Caicos Oxford, Premier Prints Outdoor Caicos Pineapple, Premier Prints Outdoor Cameron Ocean, Premier Prints Outdoor Cameron Oxford, Premier Prints Outdoor Chevron Beechwood, Premier Prints Outdoor Chevron Cobalt, Premier Prints Outdoor Chevron Indian Coral, Premier Prints Outdoor Chevron Light Gray, Premier Prints Outdoor Devada Beechwood, Premier Prints Outdoor Devada Indian Coral, Premier Prints Outdoor Devada Ocean, Premier Prints Outdoor Devada Oxford, Premier Prints Outdoor Flamingo, Premier Prints Outdoor Fulton Bay Green, Premier Prints Outdoor Fulton Black, Premier Prints Outdoor Fulton Calypso, Premier Prints Outdoor Fulton Ocean, Premier Prints Outdoor Fulton Oxford, Premier Prints Outdoor Fulton Sand, Premier Prints Outdoor Gotcha American Red, Premier Prints Outdoor Gotcha Ebony, Premier Prints Outdoor Gotcha Gray, Premier Prints Outdoor Gotcha Oxford, Premier Prints Outdoor Gotcha Rojo, Premier Prints Outdoor Gotcha Yellow, Premier Prints Outdoor Heni Calypso, Premier Prints Outdoor Heni Sand, Premier Prints Outdoor Holly Cavern, Premier Prints Outdoor Holly Gray, Premier Prints Outdoor Holly Indian Coral, Premier Prints Outdoor Holly Ocean, Premier Prints Outdoor Holly Oxford, Premier Prints Outdoor Ikat Domino Salmon, Premier Prints Outdoor Ikat Dots Citrus Yellow, Premier Prints Outdoor Ikat Dots Gray, Premier Prints Outdoor Isadella Calypso, Premier Prints Outdoor Isadella Citrus, Premier Prints Outdoor Isadella Ocean, Premier Prints Outdoor Isadella Oxford, Premier Prints Outdoor Lalo Calypso, Premier Prints Outdoor Lalo Oxford, Premier Prints Outdoor Magna Calypso, Premier Prints Outdoor Magna Oxford, Premier Prints Outdoor Manchester Baygreen, Premier Prints Outdoor Manchester Ocean, Premier Prints Outdoor Manchester Oxford, Premier Prints Outdoor Menagerie, Premier Prints Outdoor Milan Beechwood, Premier Prints Outdoor Milan Cavern, Premier Prints Outdoor Milan Cobalt, Premier Prints Outdoor Milan Indian Coral, Premier Prints Outdoor Milan Ocean, Premier Prints Outdoor Milan Oxford Ocean, Premier Prints Outdoor Mums Cavern, Premier Prints Outdoor Mums Indian Coral, Premier Prints Outdoor Mums Ocean, Premier Prints Outdoor Mums Oxford, Premier Prints Outdoor Ozbourne Oxford, Premier Prints Outdoor Palms Oxford, Premier Prints Outdoor Peru Indian Coral, Premier Prints Outdoor Peru Ocean, Premier Prints Outdoor Peru Oxford, Premier Prints Outdoor Ramey Beechwood, Premier Prints Outdoor Ramey Cavern, Premier Prints Outdoor Ramey Cobalt, Premier Prints Outdoor Ramey Light Gray, Premier Prints Outdoor Ramey Ocean, Premier Prints Outdoor Ramey Oxford, Premier Prints Outdoor Seafriends Ocean, Premier Prints Outdoor Seafriends Oxford, Premier Prints Outdoor Seahorse Ocean, Premier Prints Outdoor Seahorse Oxford, Premier Prints Outdoor Seaton Oyster, Premier Prints Outdoor Seaton Pineapple, Premier Prints Outdoor Sioux Beechwood, Premier Prints Outdoor Sioux Cavern, Premier Prints Outdoor Sioux Cobalt, Premier Prints Outdoor Sioux Indian Coral, Premier Prints Outdoor Sioux Ocean, Premier Prints Outdoor Susette Cavern, Premier Prints Outdoor Susette Cobalt, Premier Prints Outdoor Susette Indian Coral, Premier Prints Outdoor Teepee Beechwood, Premier Prints Outdoor Teepee Cavern, Premier Prints Outdoor Teepee Indian Coral, Premier Prints Outdoor Teepee Ocean, Premier Prints Outdoor Teepee Oxford, Premier Prints Outdoor Towers Citrus Yellow, Premier Prints Outdoor Towers Gray, Premier Prints Outdoor Towers Ocean, Premier Prints Outdoor Towers Orange, Premier Prints Outdoor Towers Sand, Premier Prints Outdoor Twirly American Red, Premier Prints Outdoor Twirly Deep Blue, Premier Prints Outdoor Twirly Greenage, Premier Prints Outdoor Twirly Safari, Premier Prints Outdoor Twirly Yellow, Premier Prints Outdoor Walker Pineapple, Premier Prints Outdoor Zazzle Pacific, Premier Prints Outdoor Zigzag Bay Green, Premier Prints Outdoor Zigzag Black, Premier Prints Outdoor Zigzag Canyon, Premier Prints Outdoor Zigzag Ebony, Premier Prints Outdoor Zigzag Gray, Premier Prints Outdoor Zigzag Greenage, Premier Prints Outdoor Zigzag Ocean, Premier Prints Outdoor Zigzag Orange, Premier Prints Outdoor Zigzag Oxford, Premier Prints Outdoor Zigzag Safari, Premier Prints Outdoor Zigzag Yellow, Sunbrella Accord Crimson, Sunbrella Accord Jade, Sunbrella Accord Koi, Sunbrella Action Ash, Sunbrella Action Denim, Sunbrella Action Linen, Sunbrella Action Stone, Sunbrella Action Taupe, Sunbrella Aria Teak, Sunbrella Astoria Lagoon, Sunbrella Astoria Sunset, Sunbrella Berenson Tuxedo, Sunbrella Bessemer, Sunbrella Blox Slate, Sunbrella Brannon Redwood, Sunbrella Brannon Whisper, Sunbrella Bravada Limelight, Sunbrella Bravada Salsa, Sunbrella Cabana Classic, Sunbrella Cabana Regatta, Sunbrella Cabaret Blue Haze, Sunbrella Canvas Air Blue, Sunbrella Canvas Antique Beige, Sunbrella Canvas Aruba, Sunbrella Canvas Bay Brown, Sunbrella Canvas Birds Eye, Sunbrella Canvas Black, Sunbrella Canvas Blush, Sunbrella Canvas Brass, Sunbrella Canvas Brick, Sunbrella Canvas Burgundy, Sunbrella Canvas Buttercup, Sunbrella Canvas Camel, Sunbrella Canvas Canvas, Sunbrella Canvas Capri, Sunbrella Canvas Charcoal, Sunbrella Canvas Chestnut, Sunbrella Canvas Coal, Sunbrella Canvas Cocoa, Sunbrella Canvas Cork, Sunbrella Canvas Fern, Sunbrella Canvas Flax, Sunbrella Canvas Forest Green, Sunbrella Canvas Gingko, Sunbrella Canvas Glacier, Sunbrella Canvas Granite, Sunbrella Canvas Heather Beige, Sunbrella Canvas Henna, Sunbrella Canvas Hot Pink, Sunbrella Canvas Iris, Sunbrella Canvas Jockey Red, Sunbrella Canvas Logo Red, Sunbrella Canvas Macaw, Sunbrella Canvas Maize, Sunbrella Canvas Melon, Sunbrella Canvas Mineral Blue, Sunbrella Canvas Natural, Sunbrella Canvas Navy, Sunbrella Canvas Pacific Blue, Sunbrella Canvas Palm, Sunbrella Canvas Parrot, Sunbrella Canvas Raven Black, Sunbrella Canvas Regatta, Sunbrella Canvas Rust, Sunbrella Canvas Sapphire Blue, Sunbrella Canvas Sky Blue, Sunbrella Canvas Spa, Sunbrella Canvas Sunflower Yellow, Sunbrella Canvas Tangerine, Sunbrella Canvas Taupe, Sunbrella Canvas Teak, Sunbrella Canvas Teal, Sunbrella Canvas Terracotta, Sunbrella Canvas True Blue, Sunbrella Canvas Tuscan, Sunbrella Canvas Vellum, Sunbrella Canvas Walnut, Sunbrella Canvas Wheat, Sunbrella Canvas White, Sunbrella Carousel Confetti, Sunbrella Cast Ash, Sunbrella Cast Lagoon, Sunbrella Cast Mist, Sunbrella Cast Oasis, Sunbrella Cast Petal, Sunbrella Cast Shale, Sunbrella Cast Silver, Sunbrella Cast Slate, Sunbrella Cast Tinsel, Sunbrella Cove Cameo, Sunbrella Cove Pebble, Sunbrella Davidson Redwood, Sunbrella Dimone Sequoia, Sunbrella Dolce Mango, Sunbrella Dolce Oasis, Sunbrella Dorsett Cherry, Sunbrella Dupione Aloe, Sunbrella Dupione Bamboo, Sunbrella Dupione Caramel, Sunbrella Dupione Celeste, Sunbrella Dupione Cornsilk, Sunbrella Dupione Crimson, Sunbrella Dupione Deep Sea, Sunbrella Dupione Dove, Sunbrella Dupione Galaxy, Sunbrella Dupione Henna, Sunbrella Dupione Latte, Sunbrella Dupione Laurel, Sunbrella Dupione Nectarine, Sunbrella Dupione Oak, Sunbrella Dupione Palm, Sunbrella Dupione Papaya, Sunbrella Dupione Paradise, Sunbrella Dupione Pearl, Sunbrella Dupione Peridot, Sunbrella Dupione Sand, Sunbrella Dupione Stone, Sunbrella Dupione Walnut, Sunbrella Echo Ash, Sunbrella Echo Dune, Sunbrella Echo Midnight, Sunbrella Echo Sangria, Sunbrella Elegance Marble, Sunbrella Empire Dove, Sunbrella Escapade Electro, Sunbrella Escapade Fusion, Sunbrella Escapade Twilight, Sunbrella Escapade Vivid, Sunbrella Fischer Lagoon, Sunbrella Foster Metallic, Sunbrella Foster Surfside, Sunbrella Frequency Ash, Sunbrella Frequency Parchment, Sunbrella Frequency Sand, Sunbrella Fretwork Cameo, Sunbrella Fretwork Flax, Sunbrella Fretwork Mist, Sunbrella Fretwork Pewter, Sunbrella Gateway Blush, Sunbrella Gateway Mist, Sunbrella Gavin Mist, Sunbrella Harwood Crimson, Sunbrella Heritage Alpaca, Sunbrella Heritage Ashe, Sunbrella Heritage Char, Sunbrella Heritage Denim, Sunbrella Heritage Granite, Sunbrella Heritage Leaf, Sunbrella Heritage Mink, Sunbrella Heritage Moss, Sunbrella Heritage Papyrus, Sunbrella Heritage Wheat, Sunbrella Hybrid Sky, Sunbrella Hybrid Smoke, Sunbrella Integrated Dune, Sunbrella Integrated Indigo, Sunbrella Integrated Pewter, Sunbrella Integrated Steel, Sunbrella Lido Indigo, Sunbrella Linen Canvas, Sunbrella Linen Champagne, Sunbrella Linen Silver, Sunbrella Linen Stone, Sunbrella Linen Straw, Sunbrella Linen Taupe, Sunbrella Loft Char, Sunbrella Loft Crimson, Sunbrella Loft Dune, Sunbrella Loft Flax, Sunbrella Loft Grape, Sunbrella Loft Grey, Sunbrella Loft Indigo, Sunbrella Loft Pebble, Sunbrella Loft Turquoise, Sunbrella Loft White, Sunbrella Loft Wisteria, Sunbrella Luxe Indigo, Sunbrella Mainstreet Latte, Sunbrella Mainstreet Wren, Sunbrella Mason Forest Green, Sunbrella Maxim Heather Beige, Sunbrella Milano Char, Sunbrella Milano Cobalt, Sunbrella Passage Poppy, Sunbrella Peyton Granite, Sunbrella Radiant Dune, Sunbrella Radiant Kiwi, Sunbrella Radiant Lagoon, Sunbrella Radiant Sangria, Sunbrella Radiant Silver, Sunbrella Radiant Slate, Sunbrella Regency Sand, Sunbrella Rib Taupe/Antique Beige, Sunbrella Rib Natural, Sunbrella Rib Taupe, Sunbrella Sailcloth Sahara, Sunbrella Sailcloth Sailor, Sunbrella Sailcloth Salt, Sunbrella Sailcloth Sand, Sunbrella Sailcloth Seagull, Sunbrella Sailcloth Shade, Sunbrella Sailcloth Shadow, Sunbrella Sailcloth Shell, Sunbrella Sailcloth Shore, Sunbrella Sailcloth Sisal, Sunbrella Sailcloth Spice, Sunbrella Seville Seaside, Sunbrella Shore Citron, Sunbrella Shore Classic, Sunbrella Shore Regatta, Sunbrella Solana Seagull, Sunbrella Spectrum Almond, Sunbrella Spectrum Carbon, Sunbrella Spectrum Caribou, Sunbrella Spectrum Cilantro, Sunbrella Spectrum Coffee, Sunbrella Spectrum Daffodil, Sunbrella Spectrum Dove, Sunbrella Spectrum Eggshell, Sunbrella Spectrum Graphite, Sunbrella Spectrum Grenadine, Sunbrella Spectrum Indigo, Sunbrella Spectrum Kiwi, Sunbrella Spectrum Mist, Sunbrella Spectrum Mushroom, Sunbrella Spectrum Peacock, Sunbrella Spectrum Sand, Sunbrella Spectrum Sesame, Sunbrella Spectrum Sierra, Sunbrella Spotlight Ash, Sunbrella Spotlight Azure, Sunbrella Spotlight Citron, Sunbrella Spotlight Dune, Sunbrella Spotlight Emerald, Sunbrella Spotlight Flame, Sunbrella Spotlight Galaxy, Sunbrella Spotlight Indigo, Sunbrella Spotlight Lagoon, Sunbrella Spotlight Pebble, Sunbrella Spotlight Rose, Sunbrella Spotlight Wisteria, Sunbrella Stanton Greystone, Sunbrella Stanton Lagoon, Sunbrella Token Caribbean, Sunbrella Token Surfside, Sunbrella Violetta Baltic, Warwick Avoca Ash, Warwick Avoca Lime, Warwick Avoca Lobster, Warwick Avoca Marine, Warwick Avoca Melon, Warwick Avoca Stone, Warwick Avoca Sunshine, Warwick Avoca Turquoise, Warwick Bells Beach Ash, Warwick Bells Beach Calippo, Warwick Bells Beach Hibiscus, Warwick Bells Beach Lime, Warwick Bells Beach Ocean, Warwick Bells Beach Stone, Warwick Bells Beach Sunshine, Warwick Bondi Ash, Warwick Bondi Calippo, Warwick Bondi Hibiscus, Warwick Bondi Lime, Warwick Bondi Ocean, Warwick Bondi Stone, Warwick Bondi Sunshine, Warwick Coolum Ash, Warwick Coolum Lime, Warwick Coolum Lobster, Warwick Coolum Marine, Warwick Coolum Melon, Warwick Coolum Stone, Warwick Coolum Sunshine, Warwick Coolum Turquoise, Warwick Lomani Ash, Warwick Lomani Calippo, Warwick Lomani Cloud, Warwick Lomani Hibiscus, Warwick Lomani Lagoon, Warwick Lomani Lime, Warwick Lomani Navy, Warwick Lomani Ocean, Warwick Lomani Pebble, Warwick Lomani Pumice, Warwick Lomani Sand, Warwick Lomani Shell, Warwick Lomani Stone, Warwick Lomani Sunshine, Warwick Lustrell Anchor Outdoor Vinyl Ash, Warwick Lustrell Anchor Outdoor Vinyl Bone, Warwick Lustrell Anchor Outdoor Vinyl Calippo, Warwick Lustrell Anchor Outdoor Vinyl Cloud, Warwick Lustrell Anchor Outdoor Vinyl Cream, Warwick Lustrell Anchor Outdoor Vinyl Hibiscus, Warwick Lustrell Anchor Outdoor Vinyl Lagoon, Warwick Lustrell Anchor Outdoor Vinyl Lime, Warwick Lustrell Anchor Outdoor Vinyl Marine, Warwick Lustrell Anchor Outdoor Vinyl Sand, Warwick Lustrell Anchor Outdoor Vinyl Steel, Warwick Lustrell Anchor Outdoor Vinyl Stone, Warwick Lustrell Anchor Outdoor Vinyl Sunshine, Warwick Lustrell Anchor Outdoor Vinyl Turquoise, Warwick Mallacoota Ash, Warwick Mallacoota Charcoal, Warwick Mallacoota Cobalt, Warwick Mallacoota Lime, Warwick Mallacoota Lobster, Warwick Mallacoota Marine, Warwick Mallacoota Melon, Warwick Mallacoota Ocean, Warwick Mallacoota Palm, Warwick Mallacoota Pumice, Warwick Mallacoota Sand, Warwick Mallacoota Stone, Warwick Mallacoota Sunshine, Warwick Mallacoota Turquoise, Warwick Merimbula Ash, Warwick Merimbula Lime, Warwick Merimbula Lobster, Warwick Merimbula Marine, Warwick Merimbula Melon, Warwick Merimbula Stone, Warwick Merimbula Sunshine, Warwick Merimbula Turquoise, Warwick Mindill Calippo, Warwick Mindill Denim, Warwick Mindill Hibiscus, Warwick Mindill Lime, Warwick Mindill Marine, Warwick Mindill Steel, Warwick Mindill Stone, Warwick Mindill Sunshine, Warwick Mystere Velvet Amethyst, Warwick Mystere Velvet Blush, Warwick Mystere Velvet Boysenberry, Warwick Mystere Velvet Butternut, Warwick Mystere Velvet Cosmin, Warwick Mystere Velvet Citrine, Warwick Mystere Velvet Delft, Warwick Mystere Velvet Divine, Warwick Mystere Velvet Dove, Warwick Mystere Velvet Ebony, Warwick Mystere Velvet Expresso, Warwick Mystere Velvet Flame, Warwick Mystere Velvet Gold, Warwick Mystere Velvet Grass, Warwick Mystere Velvet Heritage, Warwick Mystere Velvet Honey, Warwick Mystere Velvet Lagoon, Warwick Mystere Velvet Lavender, Warwick Mystere Velvet Mink, Warwick Mystere Velvet Moss, Warwick Mystere Velvet Mushroom, Warwick Mystere Velvet Ocean, Warwick Mystere Velvet Parchment, Warwick Mystere Velvet Peacock, Warwick Mystere Velvet Purple, Warwick Mystere Velvet Putty, Warwick Mystere Velvet Red, Warwick Mystere Velvet Royal, Warwick Mystere Velvet Seaspray, Warwick Mystere Velvet Slate, Warwick Mystere Velvet Snow, Warwick Mystere Velvet Spruce, Warwick Mystere Velvet Tangerine, Warwick Mystere Velvet Taupe, Warwick Mystere Velvet Wedgwood, Warwick Noosa Ash, Warwick Noosa Lime, Warwick Noosa Lobster, Warwick Noosa Marine, Warwick Noosa Melon, Warwick Noosa Natural, Warwick Noosa Navy, Warwick Noosa Pebble, Warwick Noosa Sand, Warwick Noosa Shark, Warwick Noosa Shell, Warwick Noosa Stone, Warwick Noosa Sunshine, Warwick Noosa Turquoise, Warwick Seychelles Calippo, Warwick Seychelles Denim, Warwick Seychelles Lime, Warwick Seychelles Marine, Warwick Seychelles Steel, Warwick Seychelles Stone, Warwick Seychelles Sunshine, Warwick Tulum Ash, Warwick Tulum Lobster, Warwick Tulum Marine, Warwick Tulum Melon, Warwick Tulum Ocean, Warwick Tulum Palm, Warwick Tulum Pumice, Warwick Tulum Sand, Warwick Tulum Stone, Warwick Waikiki Ash, Warwick Waikiki Calippo, Warwick Waikiki Denim, Warwick Waikiki Hibiscus, Warwick Waikiki Lime, Warwick Waikiki Marine, Warwick Waikiki Pebble, Warwick Waikiki Stone, Warwick Waikiki Sunshine, Warwick Waikiki Turquoise |
| STEP 3: CHOOSE FILL OR NO FILL | |
| STEP 4: CHOOSE TIES OR NO TIES | |