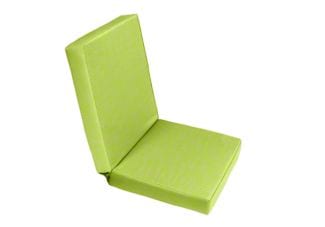 Indoor Chair Cushions
Chair cushions 50mm (thickness) or under are a seat and back cushion all in one with a hinge in the middle so it sits perfectly on a timber or aluminium chair. Thicker chair cushions will be individual cushions based on your supplied measurements.
Fully customisable in size, shape, fabric and fill, Cushion Factory can replace existing, faded or torn chair cushions with personalised cushions just for you. Most chair cushions we make are 5cm thick, but the choice is yours so don't delay to get started.
Custom Chair Cushions Australia
Cushion Factory allows you to order indoor chair cushions online or visit one of our convenient stores in Sydney, Brisbane, Melbourne or Perth.
Additional information
| | |
| --- | --- |
| STEP 1: CHOOSE YOUR FABRIC | James – Dunlop – Antigua – Dophin, Sunbrella Linen Antique Beige, Sunbrella Linen Chilli, Sunbrella Linen Natural, Warwick Merimbula Turquoise, Warwick Mystere Velvet Devine, 3 Beaches Beach Bird Albatross, 3 Beaches Beach Bird Broadwater, 3 Beaches Beach Bird Denim, 3 Beaches Beach Bird Hedges, 3 Beaches Beach Bird Stone, 3 Beaches Beach Bird Sunrise, 3 Beaches Fishnet Albatross, 3 Beaches Fishnet Broadwater, 3 Beaches Fishnet Denim, 3 Beaches Fishnet Hedges, 3 Beaches Fishnet Stone, 3 Beaches Fishnet Sunrise, 3 Beaches Henna Paisley Albatross, 3 Beaches Henna Paisley Broadwater, 3 Beaches Henna Paisley Denim, 3 Beaches Henna Paisley Hedges, 3 Beaches Henna Paisley Stone, 3 Beaches Henna Paisley Sunrise, 3 Beaches Mini Palm Albatross, 3 Beaches Mini Palm Broadwater, 3 Beaches Mini Palm Denim, 3 Beaches Mini Palm Hedges, 3 Beaches Mini Palm Stone, 3 Beaches Mini Palm Sunrise, 3 Beaches Tropical Palm Albatross, 3 Beaches Tropical Palm Broadwater, 3 Beaches Tropical Palm Denim, 3 Beaches Tropical Palm Hedges, 3 Beaches Tropical Palm Stone, 3 Beaches Tropical Palm Sunrise, Sunbrella Blend Cactus, Sunbrella Blend Cherry, Sunbrella Blend Clay, Sunbrella Blend Coal, Sunbrella Blend Fog, Sunbrella Blend Honey, Sunbrella Blend Indigo, Sunbrella Blend Lagoon, Sunbrella Blend Linen, Sunbrella Blend Mist, Sunbrella Blend Nomad, Sunbrella Blend Sable, Sunbrella Blend Sage, Sunbrella Blend Sand, Sunbrella Canvas Cyan, Sunbrella Cast Breeze, Sunbrella Cast Horizon, Sunbrella Cast Sable, Sunbrella Cast Sage, Sunbrella Cast Teak, Sunbrella Cultivate Breeze, Sunbrella Cultivate Stone, Sunbrella Cultivate Tandoori, Sunbrella Gateway Aspen, Sunbrella Gateway Fuse, Sunbrella Gateway Indigo, Sunbrella Gateway Tropic, Sunbrella Linen Pampas, Sunbrella Linen Sesame, Sunbrella Midori Bermuda, Sunbrella Midori Indigo, Sunbrella Midori Stone, Sunbrella Shore Linen, Sunbrella Spectrum Aztec, Sunbrella Spectrum Cherry, Sunbrella Spectrum Ruby, Sundrella Linen Stone, Tommy Bahama Artisans Palms Mojito, Tommy Bahama Artisans Palms Night, Tommy Bahama Artisans Palms Seaspray, Tommy Bahama Bahamanian Breeze Coal, Tommy Bahama Bahamian Breeze Surf, Tommy Bahama Carate Batik Azul, Tommy Bahama Carate Batik Lagoon, Tommy Bahama Carate Batik Noche, Tommy Bahama Inky Palms Indigo, Tommy Bahama Palmiers Carib, Tommy Bahama Palmiers Caviar, Tommy Bahama Palmiers Verde, Tommy Bahama Swaying Palms Indigo, Tommy Bahama Swaying Palms Isla Pink, Tommy Bahama Swaying Palms Onyx, Warwick Malindi Cascade, Warwick Malindi Cobalt, Warwick Malindi Forest, Warwick Malindi Jet, Warwick Malindi Lobster, Warwick Malindi Melon, Warwick Malindi Navy, Warwick Malindi Ocean, Warwick Malindi Palm, Warwick Malindi Pewter, Warwick Malindi Port, Warwick Malindi Sand, Warwick Malindi Stone, Warwick Malindi Sunshine, Warwick Mauritis Cascade, Warwick Mauritis Cobalt, Warwick Mauritis Forest, Warwick Mauritis Jet, Warwick Mauritis Lobster, Warwick Mauritis Melon, Warwick Mauritis Navy, Warwick Mauritis Ocean, Warwick Mauritis Palm, Warwick Mauritis Pewter, Warwick Mauritis Port, Warwick Mauritis Sand, Warwick Mauritis Stone, Warwick Mauritis Sunshine, Warwick Mombasa Cascade, Warwick Mombasa Cobalt, Warwick Mombasa Forest, Warwick Mombasa Jet, Warwick Mombasa Lobster, Warwick Mombasa Melon, Warwick Mombasa Navy, Warwick Mombasa Ocean, Warwick Mombasa Palm, Warwick Mombasa Pewter, Warwick Mombasa Port, Warwick Mombasa Sand, Warwick Mombasa Stone, Warwick Mombasa Sunshine, Warwick Mykonos Cascade, Warwick Mykonos Cloud, Warwick Mykonos Cobalt, Warwick Mykonos Coral, Warwick Mykonos Driftwood, Warwick Mykonos Forest, Warwick Mykonos Glacier, Warwick Mykonos Jet, Warwick Mykonos Lobster, Warwick Mykonos Melon, Warwick Mykonos Navy, Warwick Mykonos Ocean, Warwick Mykonos Palm, Warwick Mykonos Pewter, Warwick Mykonos Port, Warwick Mykonos Pumice, Warwick Mykonos Sand, Warwick Mykonos Seafoam, Warwick Mykonos Stone, Warwick Mykonos Sunshine, James Dunlop – Antigua – Azure, James Dunlop – Antigua – Coconut, James Dunlop – Antigua – Coral, James Dunlop – Antigua – Daiquiri, James Dunlop – Antigua – Mojito, James Dunlop – Antigua – Pina Colada, James Dunlop – Antigua – Voodoo, James Dunlop – Bahamas – Daiquiri, James Dunlop – Bahamas – Mojito, James Dunlop – Bahamas – Pina Colada, James Dunlop – Bahamas – Voodoo, James Dunlop – Grenada – Azure, James Dunlop – Grenada – Coral, James Dunlop – Grenada – Pina Colada, James Dunlop – Grenada – Voodoo, James Dunlop – Jamaica – Azure, James Dunlop – Jamaica – Coconut, James Dunlop – Jamaica – Coral, James Dunlop – Jamaica – Daiquiri, James Dunlop – Jamaica – Dolphin, James Dunlop – Jamaica – Mojito, James Dunlop – Jamaica – Pina Colada, James Dunlop – Jamaica – Voodoo, James Dunlop – Pegasus – Crete – Azure, James Dunlop – Pegasus – Crete – Bikini, James Dunlop – Pegasus – Crete – Aqua, James Dunlop – Pegasus – Crete – Citrus, James Dunlop – Pegasus – Crete – Coral, James Dunlop – Pegasus – Crete – Lime, James Dunlop – Pegasus – Crete – Marine, James Dunlop – Pegasus – Crete – Melon, James Dunlop – Pegasus – Crete – Ouzo, James Dunlop – Pegasus – Crete – Persimmon, James Dunlop – Pegasus – Crete – Stone, James Dunlop – Pegasus – Crete – Thunder, James Dunlop – Pegasus – Crete – Zest, James Dunlop – Pegasus – Mykanos – Aqua, James Dunlop – Pegasus – Mykanos – Azure, James Dunlop – Pegasus – Mykanos – Coral, James Dunlop – Pegasus – Mykanos – Melon, James Dunlop – Pegasus – Mykanos – Ouzo, James Dunlop – Pegasus – Mykanos – Rattan, James Dunlop – Pegasus – Mykanos – Tide, James Dunlop – Pegasus – Mykanos – Zest, James Dunlop – Pegasus – Santorini – Bikini, James Dunlop – Pegasus – Santorini – Citrus, James Dunlop – Pegasus – Santorini – Lime, James Dunlop – Pegasus – Santorini – Ouzo, James Dunlop – Pegasus – Santorini – Persimmon, James Dunlop – Pegasus – Santorini – Rattan, James Dunlop – Pegasus – Santorini – Tide, James Dunlop – Pegasus – Vidos – Aqua, James Dunlop – Pegasus – Vidos – Azure, James Dunlop – Pegasus – Vidos – Frill, James Dunlop – Pegasus – Vidos – Lime, James Dunlop – Pegasus – Vidos – Melon, James Dunlop – Pegasus – Vidos – Rattan, James Dunlop – Pegasus – Vidos – Tide, James Dunlop – Pegasus – Vidos – Zest, Tommy Bahama Beach Bounty La Playa, Tommy Bahama Beach Bounty Lush Green, Tommy Bahama Beach Bounty Tangelo, Tommy Bahama Escape Route Jade, Tommy Bahama Escape Route Seamist, Tommy Bahama Island Hopping Emerald, Tommy Bahama Island Song Ocean, Tommy Bahama Island Song Rattan, Sunbrella Cabana Classic, Sunbrella Canvas Antique Beige, Sunbrella Canvas Aruba, Sunbrella Canvas Black, Sunbrella Canvas Charcoal, Sunbrella Canvas Coal, Sunbrella Canvas Cocoa, Sunbrella Canvas Granite, Sunbrella Canvas Navy, Sunbrella Canvas Taupe, Sunbrella Canvas White, Sunbrella Carousel Confetti, Sunbrella Cast Ash, Sunbrella Cast Slate, Sunbrella Dolce Oasis, Sunbrella Dupione Galaxy, Sunbrella Dupione Stone, Sunbrella Foster Surfside, Sunbrella Linen Canvas, Sunbrella Milano Char, Sunbrella Milano Cobalt, Sunbrella Stanton Greystone, Sunbrella Accord Crimson, Sunbrella Accord Jade, Sunbrella Accord Koi, Sunbrella Action Ash, Sunbrella Action Denim, Sunbrella Action Linen, Sunbrella Action Stone, Sunbrella Action Taupe, Sunbrella Aria Teak, Sunbrella Astoria Lagoon, Sunbrella Astoria Sunset, Sunbrella Berenson Tuxedo, Sunbrella Bessemer, Sunbrella Blox Slate, Sunbrella Brannon Redwood, Sunbrella Brannon Whisper, Sunbrella Bravada Limelight, Sunbrella Bravada Salsa, Sunbrella Cabana Regatta, Sunbrella Cabaret Blue Haze, Sunbrella Canvas Air Blue, Sunbrella Canvas Bay Brown, Sunbrella Canvas Birds Eye, Sunbrella Canvas Blush, Sunbrella Canvas Brass, Sunbrella Canvas Brick, Sunbrella Canvas Burgundy, Sunbrella Canvas Buttercup, Sunbrella Canvas Camel, Sunbrella Canvas Canvas, Sunbrella Canvas Capri, Sunbrella Canvas Chestnut, Sunbrella Canvas Cork, Sunbrella Canvas Fern, Sunbrella Canvas Flax, Sunbrella Canvas Forest Green, Sunbrella Canvas Gingko, Sunbrella Canvas Glacier, Sunbrella Canvas Heather Beige, Sunbrella Canvas Henna, Sunbrella Canvas Hot Pink, Sunbrella Canvas Iris, Sunbrella Canvas Jockey Red, Sunbrella Canvas Logo Red, Sunbrella Canvas Macaw, Sunbrella Canvas Melon, Sunbrella Canvas Mineral Blue, Sunbrella Canvas Natural, Sunbrella Canvas Pacific Blue, Sunbrella Canvas Palm, Sunbrella Canvas Parrot, Sunbrella Canvas Raven Black, Sunbrella Canvas Regatta, Sunbrella Canvas Rust, Sunbrella Canvas Sapphire Blue, Sunbrella Canvas Sky Blue, Sunbrella Canvas Spa, Sunbrella Canvas Sunflower Yellow, Sunbrella Canvas Tangerine, Sunbrella Canvas Teak, Sunbrella Canvas Teal, Sunbrella Canvas Terracotta, Sunbrella Canvas True Blue, Sunbrella Canvas Tuscan, Sunbrella Canvas Vellum, Sunbrella Canvas Walnut, Sunbrella Canvas Wheat, Sunbrella Cast Lagoon, Sunbrella Cast Mist, Sunbrella Cast Oasis, Sunbrella Cast Petal, Sunbrella Cast Shale, Sunbrella Cast Silver, Sunbrella Cast Tinsel, Sunbrella Cove Cameo, Sunbrella Cove Pebble, Sunbrella Davidson Redwood, Sunbrella Dimone Sequoia, Sunbrella Dolce Mango, Sunbrella Dorsett Cherry, Sunbrella Dupione Aloe, Sunbrella Dupione Bamboo, Sunbrella Dupione Caramel, Sunbrella Dupione Celeste, Sunbrella Dupione Cornsilk, Sunbrella Dupione Crimson, Sunbrella Dupione Deep Sea, Sunbrella Dupione Dove, Sunbrella Dupione Henna, Sunbrella Dupione Latte, Sunbrella Dupione Laurel, Sunbrella Dupione Nectarine, Sunbrella Dupione Oak, Sunbrella Dupione Papaya, Sunbrella Dupione Paradise, Sunbrella Dupione Pearl, Sunbrella Dupione Peridot, Sunbrella Dupione Sand, Sunbrella Dupione Walnut, Sunbrella Echo Ash, Sunbrella Echo Dune, Sunbrella Echo Midnight, Sunbrella Echo Sangria, Sunbrella Empire Dove, Sunbrella Escapade Electro, Sunbrella Escapade Fusion, Sunbrella Escapade Twilight, Sunbrella Escapade Vivid, Sunbrella Fischer Lagoon, Sunbrella Foster Metallic, Sunbrella Frequency Ash, Sunbrella Frequency Parchment, Sunbrella Frequency Sand, Sunbrella Fretwork Cameo, Sunbrella Fretwork Flax, Sunbrella Fretwork Mist, Sunbrella Fretwork Pewter, Sunbrella Gateway Blush, Sunbrella Gateway Mist, Sunbrella Gavin Mist, Sunbrella Harwood Crimson, Sunbrella Heritage Alpaca, Sunbrella Heritage Ashe, Sunbrella Heritage Char, Sunbrella Heritage Denim, Sunbrella Heritage Granite, Sunbrella Heritage Leaf, Sunbrella Heritage Mink, Sunbrella Heritage Moss, Sunbrella Heritage Papyrus, Sunbrella Heritage Wheat, Sunbrella Hybrid Sky, Sunbrella Hybrid Smoke, Sunbrella Integrated Dune, Sunbrella Integrated Indigo, Sunbrella Integrated Pewter, Sunbrella Integrated Steel, Sunbrella Lido Indigo, Sunbrella Linen Champagne, Sunbrella Linen Silver, Sunbrella Linen Straw, Sunbrella Linen Taupe, Sunbrella Loft Char, Sunbrella Loft Crimson, Sunbrella Loft Dune, Sunbrella Loft Flax, Sunbrella Loft Grape, Sunbrella Loft Grey, Sunbrella Loft Indigo, Sunbrella Loft Pebble, Sunbrella Loft Turquoise, Sunbrella Loft White, Sunbrella Loft Wisteria, Sunbrella Luxe Indigo, Sunbrella Mainstreet Latte, Sunbrella Mainstreet Wren, Sunbrella Maxim Heather Beige, Sunbrella Mason Forest Green, Sunbrella Passage Poppy, Sunbrella Peyton Granite, Sunbrella Radiant Dune, Sunbrella Radiant Kiwi, Sunbrella Radiant Lagoon, Sunbrella Radiant Sangria, Sunbrella Radiant Silver, Sunbrella Radiant Slate, Sunbrella Regency Sand, Sunbrella Rib Natural, Sunbrella Rib Taupe, Sunbrella Sailcloth Sahara, Sunbrella Sailcloth Sailor, Sunbrella Sailcloth Salt, Sunbrella Sailcloth Sand, Sunbrella Sailcloth Seagull, Sunbrella Sailcloth Shade, Sunbrella Sailcloth Shadow, Sunbrella Sailcloth Shell, Sunbrella Sailcloth Shore, Sunbrella Sailcloth Sisal, Sunbrella Sailcloth Spice, Sunbrella Seville Seaside, Sunbrella Shore Classic, Sunbrella Shore Regatta, Sunbrella Solana Seagull, Sunbrella Spectrum Almond, Sunbrella Spectrum Carbon, Sunbrella Spectrum Caribou, Sunbrella Spectrum Cilantro, Sunbrella Spectrum Coffee, Sunbrella Spectrum Daffodil, Sunbrella Spectrum Denim, Sunbrella Spectrum Dove, Sunbrella Spectrum Eggshell, Sunbrella Spectrum Graphite, Sunbrella Spectrum Grenadine, Sunbrella Spectrum Indigo, Sunbrella Spectrum Kiwi, Sunbrella Spectrum Mist, Sunbrella Spectrum Mushroom, Sunbrella Spectrum Peacock, Sunbrella Spectrum Sand, Sunbrella Spectrum Sesame, Sunbrella Spectrum Sierra, Sunbrella Spotlight Ash, Sunbrella Spotlight Azure, Sunbrella Spotlight Citron, Sunbrella Spotlight Dune, Sunbrella Spotlight Emerald, Sunbrella Spotlight Flame, Sunbrella Spotlight Galaxy, Sunbrella Spotlight Indigo, Sunbrella Spotlight Lagoon, Sunbrella Spotlight Pebble, Sunbrella Spotlight Rose, Sunbrella Spotlight Wisteria, Sunbrella Stanton Lagoon, Sunbrella Token Caribbean, Sunbrella Token Surfside, Sunbrella Violetta Baltic, Warwick Avoca Ash, Warwick Avoca Lime, Warwick Avoca Lobster, Warwick Avoca Marine, Warwick Avoca Melon, Warwick Avoca Stone, Warwick Avoca Sunshine, Warwick Avoca Turquoise, Warwick Bells Beach Ash, Warwick Bells Beach Calippo, Warwick Bells Beach Hibiscus, Warwick Bells Beach Lime, Warwick Bells Beach Ocean, Warwick Bells Beach Stone, Warwick Bells Beach Sunshine, Warwick Bondi Ash, Warwick Bondi Calippo, Warwick Bondi Hibiscus, Warwick Bondi Lime, Warwick Bondi Ocean, Warwick Bondi Stone, Warwick Bondi Sunshine, Warwick Coolum Ash, Warwick Coolum Lime, Warwick Coolum Lobster, Warwick Coolum Marine, Warwick Coolum Melon, Warwick Coolum Stone, Warwick Coolum Sunshine, Warwick Coolum Turquoise, Warwick Lomani Ash, Warwick Lomani Calippo, Warwick Lomani Cloud, Warwick Lomani Hibiscus, Warwick Lomani Lagoon, Warwick Lomani Lime, Warwick Lomani Navy, Warwick Lomani Ocean, Warwick Lomani Pumice, Warwick Lomani Sand, Warwick Lomani Pebble, Warwick Lomani Shell, Warwick Lomani Stone, Warwick Lomani Sunshine, Warwick Lustrell Anchor Outdoor Vinyl ASH, Warwick Lustrell Anchor Outdoor Vinyl Cloud, Warwick Lustrell Anchor Outdoor Vinyl Hibiscus, Warwick Lustrell Anchor Outdoor Vinyl Lagoon, Warwick Lustrell Anchor Outdoor Vinyl Marine, Warwick Lustrell Anchor Outdoor Vinyl Steel, Warwick Lustrell Anchor Outdoor Vinyl Stone, Warwick Lustrell Anchor Outdoor Vinyl Sunshine, Warwick Lustrell Anchor Outdoor Vinyl Turquoise, Warwick Mallacoota Ash, Warwick Mallacoota Charcoal, Warwick Mallacoota Cobalt, Warwick Mallacoota Lime, Warwick Mallacoota Lobster, Warwick Mallacoota Marine, Warwick Mallacoota Melon, Warwick Mallacoota Ocean, Warwick Mallacoota Palm, Warwick Mallacoota Pumice, Warwick Mallacoota Sand, Warwick Mallacoota Stone, Warwick Mallacoota Sunshine, Warwick Mallacoota Turquoise, Warwick Merimbula Ash, Warwick Merimbula Lime, Warwick Merimbula Lobster, Warwick Merimbula Marine, Warwick Merimbula Melon, Warwick Merimbula Stone, Warwick Merimbula Sunshine, Warwick Merimbula Turqouise, Warwick Mindill Calippo, Warwick Mindill Denim, Warwick Mindill Lime, Warwick Mindill Marine, Warwick Mindill Steel, Warwick Mindill Stone, Warwick Mindill Sunshine, Warwick Mystere Velvet Amethyst, Warwick Mystere Velvet Blush, Warwick Mystere Velvet Boysenberry, Warwick Mystere Velvet Butternut, Warwick Mystere Velvet Citrine, Warwick Mystere Velvet Cosmic, Warwick Mystere Velvet Delft, Warwick Mystere Velvet Divine, Warwick Mystere Velvet Dove, Warwick Mystere Velvet Ebony, Warwick Mystere Velvet Expresso, Warwick Mystere Velvet Flame, Warwick Mystere Velvet Gold, Warwick Mystere Velvet Grass, Warwick Mystere Velvet Heritage, Warwick Mystere Velvet Honey, Warwick Mystere Velvet Lagoon, Warwick Mystere Velvet Lavender, Warwick Mystere Velvet Mink, Warwick Mystere Velvet Moss, Warwick Mystere Velvet Mushroom, Warwick Mystere Velvet Ocean, Warwick Mystere Velvet Parchment, Warwick Mystere Velvet Peacock, Warwick Mystere Velvet Purple, Warwick Mystere Velvet Putty, Warwick Mystere Velvet Red, Warwick Mystere Velvet Royal, Warwick Mystere Velvet Seaspray, Warwick Mystere Velvet Slate, Warwick Mystere Velvet Snow, Warwick Mystere Velvet Spruce, Warwick Mystere Velvet Tangerine, Warwick Mystere Velvet Taupe, Warwick Mystere Velvet Wedgwood, Warwick Noosa Ash, Warwick Noosa Lime, Warwick Noosa Lobster, Warwick Noosa Marine, Warwick Noosa Melon, Warwick Noosa Natural, Warwick Noosa Navy, Warwick Noosa Pebble, Warwick Noosa Shell, Warwick Noosa Sand, Warwick Noosa Shark, Warwick Noosa Stone, Warwick Noosa Sunshine, Warwick Noosa Turquoise, Warwick Seychelles Calippo, Warwick Seychelles Denim, Warwick Seychelles Lime, Warwick Seychelles Marine, Warwick Seychelles Steel, Warwick Seychelles Stone, Warwick Seychelles Sunshine, Warwick Tulum Ash, Warwick Tulum Lobster, Warwick Tulum Marine, Warwick Tulum Melon, Warwick Tulum Ocean, Warwick Tulum Palm, Warwick Tulum Pumice, Warwick Tulum Sand, Warwick Tulum Stone, Warwick Waikiki Ash, Warwick Waikiki Calippo, Warwick Waikiki Denim, Warwick Waikiki Hibiscus, Warwick Waikiki Lime, Warwick Waikiki Marine, Warwick Waikiki Pebble, Warwick Waikiki Stone, Warwick Waikiki Sunshine, Warwick Waikiki Turquoise |
| STEP 2: CHOOSE PIPING OR NO PIPING | No Piping, 3 Beaches Beach Bird Albatross, 3 Beaches Beach Bird Broadwater, 3 Beaches Beach Bird Denim, 3 Beaches Beach Bird Hedges, 3 Beaches Beach Bird Stone, 3 Beaches Beach Bird Sunrise, 3 Beaches Fishnet Albatross, 3 Beaches Fishnet Broadwater, 3 Beaches Fishnet Denim, 3 Beaches Fishnet Hedges, 3 Beaches Fishnet Stone, 3 Beaches Fishnet Sunrise, 3 Beaches Henna Paisley Albatross, 3 Beaches Henna Paisley Broadwater, 3 Beaches Henna Paisley Denim, 3 Beaches Henna Paisley Hedges, 3 Beaches Henna Paisley Stone, 3 Beaches Henna Paisley Sunrise, 3 Beaches Mini Palm Albatross, 3 Beaches Mini Palm Broadwater, 3 Beaches Mini Palm Denim, 3 Beaches Mini Palm Hedges, 3 Beaches Mini Palm Stone, 3 Beaches Mini Palm Sunrise, 3 Beaches Tropical Palm Albatross, 3 Beaches Tropical Palm Broadwater, 3 Beaches Tropical Palm Denim, 3 Beaches Tropical Palm Hedges, 3 Beaches Tropical Palm Stone, 3 Beaches Tropical Palm Sunrise, Sunbrella Blend Cherry, Sunbrella Blend Clay, Sunbrella Blend Coal, Sunbrella Blend Fog, Sunbrella Blend Honey, Sunbrella Blend Indigo, Sunbrella Blend Lagoon, Sunbrella Blend Linen, Sunbrella Blend Mist, Sunbrella Blend Nomad, Sunbrella Blend Sable, Sunbrella Blend Sage, Sunbrella Blend Sand, Tommy Bahama Artisans Palms Mojito, Tommy Bahama Bahamanian Breeze Surf, Tommy Bahama Carate Batik Azul, Tommy Bahama Carate Batik Lagoon, Tommy Bahama Carate Batik Noche, Tommy Bahama Inky Palms Indigo, Tommy Bahama Palmiers Carib, Tommy Bahama Palmiers Caviar, Tommy Bahama Palmiers Verde, Tommy Bahama Swaying Palms Indigo, Tommy Bahama Swaying Palms Onyx, Warwick Malindi Cascade, Warwick Malindi Cobalt, Warwick Malindi Forest, Warwick Malindi Jet, Warwick Malindi Lobster, Warwick Malindi Melon, Warwick Malindi Navy, Warwick Malindi Ocean, Warwick Malindi Palm, Warwick Malindi Pewter, Warwick Malindi Port, Warwick Malindi Sand, Warwick Malindi Stone, Warwick Malindi Sunshine, Warwick Mauritis Cascade, Warwick Mauritis Cobalt, Warwick Mauritis Forest, Warwick Mauritis Jet, Warwick Mauritis Lobster, Warwick Mauritis Melon, Warwick Mauritis Navy, Warwick Mauritis Ocean, Warwick Mauritis Palm, Warwick Mauritis Pewter, Warwick Mauritis Port, Warwick Mauritis Sand, Warwick Mauritis Stone, Warwick Mauritis Sunshine, Warwick Mombasa Cascade, Warwick Mombasa Cobalt, Warwick Mombasa Forest, Warwick Mombasa Jet, Warwick Mombasa Lobster, Warwick Mombasa Melon, Warwick Mombasa Navy, Warwick Mombasa Ocean, Warwick Mombasa Palm, Warwick Mombasa Pewter, Warwick Mombasa Port, Warwick Mombasa Sand, Warwick Mombasa Stone, Warwick Mombasa Sunshine, Warwick Mykonos Cascade, Warwick Mykonos Cloud, Warwick Mykonos Cobalt, Warwick Mykonos Coral, Warwick Mykonos Driftwood, Warwick Mykonos Forest, Warwick Mykonos Glacier, Warwick Mykonos Jet, Warwick Mykonos Lobster, Warwick Mykonos Melon, Warwick Mykonos Navy, Warwick Mykonos Ocean, Warwick Mykonos Palm, Warwick Mykonos Pewter, Warwick Mykonos Port, Warwick Mykonos Pumice, Warwick Mykonos Sand, Warwick Mykonos Seafoam, Warwick Mykonos Stone, Warwick Mykonos Sunshine, Piping Fabric To Be Same As Cushion Fabric, Sunbrella Shore Linen, Sunbrella Spectrum Aztec, Sunbrella Spectrum Cherry, Sunbrella Spectrum Ruby, Tommy Bahama Artisans Palms Night, Tommy Bahama Artisans Palms Seaspray, Tommy Bahama Bahamanian Breeze Coal, Sunbrella Canvas Cyan, Sunbrella Cast Breeze, Sunbrella Cast Horizon, Sunbrella Cast Sable, Sunbrella Cast Sage, Sunbrella Cast Teak, Sunbrella Cultivate Breeze, Sunbrella Cultivate Stone, Sunbrella Cultivate Tandoori, Sunbrella Gateway Aspen, Sunbrella Gateway Fuse, Sunbrella Gateway Indigo, Sunbrella Gateway Tropic, Sunbrella Linen Pampas, Sunbrella Linen Sesame, Sunbrella Midori Bermuda, Sunbrella Midori Indigo, Sunbrella Midori Stone, Sundrella Linen Stone, Sunbrella Blend Cactus, Sunbrella Accord Crimson, Sunbrella Accord Jade, Sunbrella Accord Koi, Sunbrella Action Ash, Sunbrella Action Denim, Sunbrella Action Linen, Sunbrella Action Stone, Sunbrella Action Taupe, Sunbrella Aria Teak, Sunbrella Astoria Lagoon, Sunbrella Astoria Sunset, Sunbrella Berenson Tuxedo, Sunbrella Bessemer, Sunbrella Blox Slate, Sunbrella Brannon Redwood, Sunbrella Brannon Whisper, Sunbrella Bravada Limelight, Sunbrella Bravada Salsa, Sunbrella Cabana Classic, Sunbrella Cabana Regatta, Sunbrella Cabaret Blue Haze, Sunbrella Canvas Air Blue, Sunbrella Canvas Antique Beige, Sunbrella Canvas Aruba, Sunbrella Canvas Bay Brown, Sunbrella Canvas Birds Eye, Sunbrella Canvas Black, Sunbrella Canvas Blush, Sunbrella Canvas Brass, Sunbrella Canvas Brick, Sunbrella Canvas Burgundy, Sunbrella Canvas Buttercup, Sunbrella Canvas Camel, Sunbrella Canvas Canvas, Sunbrella Canvas Capri, Sunbrella Canvas Charcoal, Sunbrella Canvas Chestnut, Sunbrella Canvas Coal, Sunbrella Canvas Cocoa, Sunbrella Canvas Cork, Sunbrella Canvas Fern, Sunbrella Canvas Flax, Sunbrella Canvas Forest Green, Sunbrella Canvas Gingko, Sunbrella Canvas Glacier, Sunbrella Canvas Granite, Sunbrella Canvas Heather Beige, Sunbrella Canvas Henna, Sunbrella Canvas Hot Pink, Sunbrella Canvas Iris, Sunbrella Canvas Jockey Red, Sunbrella Canvas Logo Red, Sunbrella Canvas Macaw, Sunbrella Canvas Maize, Sunbrella Canvas Melon, Sunbrella Canvas Mineral Blue, Sunbrella Canvas Natural, Sunbrella Canvas Navy, Sunbrella Canvas Pacific Blue, Sunbrella Canvas Palm, Sunbrella Canvas Parrot, Sunbrella Canvas Raven Black, Sunbrella Canvas Regatta, Sunbrella Canvas Rust, Sunbrella Canvas Sapphire Blue, Sunbrella Canvas Sky Blue, Sunbrella Canvas Spa, Sunbrella Canvas Sunflower Yellow, Sunbrella Canvas Tangerine, Sunbrella Canvas Taupe, Sunbrella Canvas Teak, Sunbrella Canvas Teal, Sunbrella Canvas Terracotta, Sunbrella Canvas True Blue, Sunbrella Canvas Tuscan, Sunbrella Canvas Vellum, Sunbrella Canvas Walnut, Sunbrella Canvas Wheat, Sunbrella Canvas White, Sunbrella Carousel Confetti, Sunbrella Cast Ash, Sunbrella Cast Lagoon, Sunbrella Cast Mist, Sunbrella Cast Oasis, Sunbrella Cast Petal, Sunbrella Cast Shale, Sunbrella Cast Silver, Sunbrella Cast Slate, Sunbrella Cast Tinsel, Sunbrella Cove Cameo, Sunbrella Cove Pebble, Sunbrella Davidson Redwood, Sunbrella Dimone Sequoia, Sunbrella Dolce Mango, Sunbrella Dolce Oasis, Sunbrella Dorsett Cherry, Sunbrella Dupione Aloe, Sunbrella Dupione Bamboo, Sunbrella Dupione Caramel, Sunbrella Dupione Celeste, Sunbrella Dupione Cornsilk, Sunbrella Dupione Crimson, Sunbrella Dupione Deep Sea, Sunbrella Dupione Dove, Sunbrella Dupione Galaxy, Sunbrella Dupione Henna, Sunbrella Dupione Latte, Sunbrella Dupione Laurel, Sunbrella Dupione Nectarine, Sunbrella Dupione Oak, Sunbrella Dupione Palm, Sunbrella Dupione Papaya, Sunbrella Dupione Paradise, Sunbrella Dupione Pearl, Sunbrella Dupione Peridot, Sunbrella Dupione Sand, Sunbrella Dupione Stone, Sunbrella Dupione Walnut, Sunbrella Echo Ash, Sunbrella Echo Dune, Sunbrella Echo Midnight, Sunbrella Echo Sangria, Sunbrella Empire Dove, Sunbrella Escapade Electro, Sunbrella Escapade Fusion, Sunbrella Escapade Twilight, Sunbrella Escapade Vivid, Sunbrella Fischer Lagoon, Sunbrella Foster Metallic, Sunbrella Foster Surfside, Sunbrella Frequency Ash, Sunbrella Frequency Parchment, Sunbrella Frequency Sand, Sunbrella Fretwork Cameo, Sunbrella Fretwork Flax, Sunbrella Fretwork Mist, Sunbrella Fretwork Pewter, Sunbrella Gateway Blush, Sunbrella Gateway Mist, Sunbrella Gavin Mist, Sunbrella Harwood Crimson, Sunbrella Heritage Alpaca, Sunbrella Heritage Ashe, Sunbrella Heritage Char, Sunbrella Heritage Denim, Sunbrella Heritage Granite, Sunbrella Heritage Leaf, Sunbrella Heritage Mink, Sunbrella Heritage Moss, Sunbrella Heritage Papyrus, Sunbrella Heritage Wheat, Sunbrella Hybrid Sky, Sunbrella Hybrid Smoke, Sunbrella Integrated Dune, Sunbrella Integrated Indigo, Sunbrella Integrated Pewter, Sunbrella Integrated Steel, Sunbrella Lido Indigo, Sunbrella Linen Canvas, Sunbrella Linen Champagne, Sunbrella Linen Silver, Sunbrella Linen Stone, Sunbrella Linen Straw, Sunbrella Linen Taupe, Sunbrella Loft Char, Sunbrella Loft Crimson, Sunbrella Loft Dune, Sunbrella Loft Flax, Sunbrella Loft Grape, Sunbrella Loft Grey, Sunbrella Loft Indigo, Sunbrella Loft Pebble, Sunbrella Loft Turquoise, Sunbrella Loft White, Sunbrella Loft Wisteria, Sunbrella Luxe Indigo, Sunbrella Mainstreet Latte, Sunbrella Mainstreet Wren, Sunbrella Mason Forest Green, Sunbrella Maxim Heather Beige, Sunbrella Milano Char, Sunbrella Milano Cobalt, Sunbrella Passage Poppy, Sunbrella Peyton Granite, Sunbrella Radiant Dune, Sunbrella Radiant Kiwi, Sunbrella Radiant Lagoon, Sunbrella Radiant Sangria, Sunbrella Radiant Silver, Sunbrella Radiant Slate, Sunbrella Regency Sand, Sunbrella Rib Taupe/Antique Beige, Sunbrella Rib Natural, Sunbrella Rib Taupe, Sunbrella Sailcloth Sahara, Sunbrella Sailcloth Sailor, Sunbrella Sailcloth Salt, Sunbrella Sailcloth Sand, Sunbrella Sailcloth Seagull, Sunbrella Sailcloth Shade, Sunbrella Sailcloth Shadow, Sunbrella Sailcloth Shell, Sunbrella Sailcloth Shore, Sunbrella Sailcloth Sisal, Sunbrella Sailcloth Spice, Sunbrella Seville Seaside, Sunbrella Shore Citron, Sunbrella Shore Classic, Sunbrella Shore Regatta, Sunbrella Solana Seagull, Sunbrella Spectrum Almond, Sunbrella Spectrum Carbon, Sunbrella Spectrum Caribou, Sunbrella Spectrum Cilantro, Sunbrella Spectrum Coffee, Sunbrella Spectrum Daffodil, Sunbrella Spectrum Dove, Sunbrella Spectrum Eggshell, Sunbrella Spectrum Graphite, Sunbrella Spectrum Grenadine, Sunbrella Spectrum Indigo, Sunbrella Spectrum Kiwi, Sunbrella Spectrum Mist, Sunbrella Spectrum Mushroom, Sunbrella Spectrum Peacock, Sunbrella Spectrum Sand, Sunbrella Spectrum Sesame, Sunbrella Spectrum Sierra, Sunbrella Spotlight Ash, Sunbrella Spotlight Azure, Sunbrella Spotlight Citron, Sunbrella Spotlight Dune, Sunbrella Spotlight Emerald, Sunbrella Spotlight Flame, Sunbrella Spotlight Galaxy, Sunbrella Spotlight Indigo, Sunbrella Spotlight Lagoon, Sunbrella Spotlight Pebble, Sunbrella Spotlight Rose, Sunbrella Spotlight Wisteria, Sunbrella Stanton Greystone, Sunbrella Stanton Lagoon, Sunbrella Token Caribbean, Sunbrella Token Surfside, Sunbrella Violetta Baltic, Warwick Avoca Ash, Warwick Avoca Lime, Warwick Avoca Lobster, Warwick Avoca Marine, Warwick Avoca Melon, Warwick Avoca Stone, Warwick Avoca Sunshine, Warwick Avoca Turquoise, Warwick Bells Beach Ash, Warwick Bells Beach Calippo, Warwick Bells Beach Hibiscus, Warwick Bells Beach Lime, Warwick Bells Beach Ocean, Warwick Bells Beach Stone, Warwick Bells Beach Sunshine, Warwick Bondi Ash, Warwick Bondi Calippo, Warwick Bondi Hibiscus, Warwick Bondi Lime, Warwick Bondi Ocean, Warwick Bondi Stone, Warwick Bondi Sunshine, Warwick Coolum Ash, Warwick Coolum Lime, Warwick Coolum Lobster, Warwick Coolum Marine, Warwick Coolum Melon, Warwick Coolum Stone, Warwick Coolum Sunshine, Warwick Coolum Turquoise, Warwick Lomani Ash, Warwick Lomani Calippo, Warwick Lomani Cloud, Warwick Lomani Hibiscus, Warwick Lomani Lagoon, Warwick Lomani Lime, Warwick Lomani Navy, Warwick Lomani Ocean, Warwick Lomani Pebble, Warwick Lomani Pumice, Warwick Lomani Sand, Warwick Lomani Shell, Warwick Lomani Stone, Warwick Lomani Sunshine, Warwick Lustrell Anchor Outdoor Vinyl Ash, Warwick Lustrell Anchor Outdoor Vinyl Bone, Warwick Lustrell Anchor Outdoor Vinyl Calippo, Warwick Lustrell Anchor Outdoor Vinyl Cloud, Warwick Lustrell Anchor Outdoor Vinyl Cream, Warwick Lustrell Anchor Outdoor Vinyl Hibiscus, Warwick Lustrell Anchor Outdoor Vinyl Lagoon, Warwick Lustrell Anchor Outdoor Vinyl Lime, Warwick Lustrell Anchor Outdoor Vinyl Marine, Warwick Lustrell Anchor Outdoor Vinyl Sand, Warwick Lustrell Anchor Outdoor Vinyl Steel, Warwick Lustrell Anchor Outdoor Vinyl Stone, Warwick Lustrell Anchor Outdoor Vinyl Sunshine, Warwick Lustrell Anchor Outdoor Vinyl Turquoise, Warwick Mallacoota Ash, Warwick Mallacoota Charcoal, Warwick Mallacoota Cobalt, Warwick Mallacoota Lime, Warwick Mallacoota Lobster, Warwick Mallacoota Marine, Warwick Mallacoota Melon, Warwick Mallacoota Ocean, Warwick Mallacoota Palm, Warwick Mallacoota Pumice, Warwick Mallacoota Sand, Warwick Mallacoota Stone, Warwick Mallacoota Sunshine, Warwick Mallacoota Turquoise, Warwick Merimbula Ash, Warwick Merimbula Lime, Warwick Merimbula Lobster, Warwick Merimbula Marine, Warwick Merimbula Melon, Warwick Merimbula Stone, Warwick Merimbula Sunshine, Warwick Merimbula Turquoise, Warwick Mindill Calippo, Warwick Mindill Denim, Warwick Mindill Hibiscus, Warwick Mindill Lime, Warwick Mindill Marine, Warwick Mindill Steel, Warwick Mindill Stone, Warwick Mindill Sunshine, Warwick Mystere Velvet Amethyst, Warwick Mystere Velvet Blush, Warwick Mystere Velvet Boysenberry, Warwick Mystere Velvet Butternut, Warwick Mystere Velvet Cosmin, Warwick Mystere Velvet Citrine, Warwick Mystere Velvet Delft, Warwick Mystere Velvet Divine, Warwick Mystere Velvet Dove, Warwick Mystere Velvet Ebony, Warwick Mystere Velvet Expresso, Warwick Mystere Velvet Flame, Warwick Mystere Velvet Gold, |