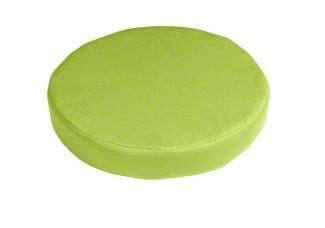 Round Cushions
Indoor round cushions can be made to any size for all of your seating needs. Bar stools or cane settings, your design is limitless with hundreds of fabrics to choose from, as well as options such as piping and ties.
Your indoor round cushions can be made with several fill types available to suit your individual needs. Choose Sunbrella or Warwick outdoor fabric for the best performance outdoors, or ANY fabric for an indoors project.
Custom Round Cushions Online Australia
Cushion Factory allows you to order round cushions online or visit one of our convenient stores in Sydney, Brisbane, Melbourne or Perth.
Additional information
| | |
| --- | --- |
| STEP 2: CHOOSE PIPING OR NO PIPING | 3 Beaches Bar Stripe Aquamarine, 3 Beaches Bar Stripe Citrine, 3 Beaches Bar Stripe Emerald, 3 Beaches Beach Stripe Broadwater, 3 Beaches Beach Stripe Denim, 3 Beaches Beach Stripe Hedges, 3 Beaches Belladonna Bell Blue, 3 Beaches Belladonna Honeysuckle, 3 Beaches Belladonna Olive Grove, 3 Beaches Bengal Stripe Earth, 3 Beaches Camp Emerald, 3 Beaches Camp Morganite, 3 Beaches Camp Sapphire, 3 Beaches Dahlia Bell Blue, 3 Beaches Dahlia Bell Blue Honey, 3 Beaches Dahlia Cherry Blossom, 3 Beaches Dahlia Honeysuckle, 3 Beaches Dahlia Olive Grove, 3 Beaches Dahlia Riverbank, 3 Beaches Daintree Palm Aquamarine, 3 Beaches Daintree Palm Emerald, 3 Beaches Daintree Palm Morganite, 3 Beaches Daintree Palm Onyx, 3 Beaches Daintree Palm Sapphire, 3 Beaches Daze Gravel, 3 Beaches Daze Sand, 3 Beaches Desert Eve Bell Blue, 3 Beaches Desert Eve Cherry Blossom, 3 Beaches |