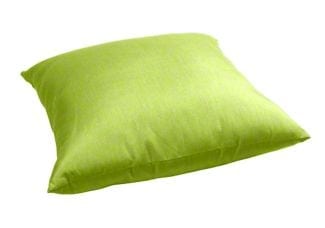 Floor Cushions
Floor cushions are perfect for that extra seating indoors or outdoors by the pool. Cushion Factory can create your very own style, shape and size of floor cushion from any one of our durable, high-quality fabrics. Just like an oversized throw pillow, your floor pillow will last for years and is sure to coordinate well with any style. Filled with a soft fill, your new pillows come with removable covers, allowing for easy cleaning.
Please note: Pillow dimensions are based on measuring along the sewn edge of the pillow, not the width of the stuffed pillow. Once filled with poly fiber, the height and width will be slightly less than the measurements ordered. For example, a 45cm x 45cm pillow will have finished dimensions of 40cm x 40cm.
Custom Floor Cushions Australia
Cushion Factory allows you to order indoor floor cushions online or visit one of our convenient stores in Sydney, Brisbane, Melbourne or Perth.
Additional information
| | |
| --- | --- |
| STEP 2: CHOOSE PIPING OR NO PIPING | 3 Beaches Bar Stripe Aquamarine, 3 Beaches Bar Stripe Citrine, 3 Beaches Bar Stripe Emerald, 3 Beaches Bengal Stripe Earth, 3 Beaches Camp Emerald, 3 Beaches Camp Morganite, 3 Beaches Camp Sapphire, 3 Beaches Daintree Palm Aquamarine, 3 Beaches Daintree Palm Emerald, 3 Beaches Daintree Palm Morganite, 3 Beaches Daintree Palm Onyx, 3 Beaches Daintree Palm Sapphire, 3 Beaches Daze Gravel, 3 Beaches Daze Sand, 3 Beaches Diamond Aquamarine, 3 Beaches Diamond Citrine, 3 Beaches Diamond Ebony Emerald, 3 Beaches Diamond Ivory Emerald, 3 Beaches Diamond Morganite, 3 Beaches Diamond Onyx, 3 Beaches Diamond Pearl, 3 Beaches Diamond Sapphire, 3 Beaches Duck Stripe Aquamarine, 3 Beaches Duck Stripe Citrine, 3 Beaches Duck Stripe Emerald, 3 Beaches Duck Stripe Morganite, 3 Beaches Duck Stripe Onyx, 3 Beaches Duck Stripe Pearl, 3 Beaches Duck Stripe Sapphire, 3 Beaches Duckcloth Earth, 3 Beaches Duckcloth Salt/Gravel, 3 Beaches Duckcloth Sand, 3 Beaches Ethnic Sand, 3 Beaches Flamingos Morganite, 3 Beaches Garland Aquamarine, 3 Beaches Garland Emerald, 3 Beaches Garland Morganite, 3 Beaches Garland Onyx, 3 Beaches Garland Sapphire, 3 Beaches Gunmetal Grey, 3 Beaches Honeycomb Earth, 3 Beaches Linen Earth, 3 Beaches Lush Gravel, 3 Beaches Marcella Sand, 3 Beaches Marrakesh Aquamarine, 3 Beaches Marrakesh Morganite, 3 Beaches Marrakesh Onyx, 3 Beaches Marrakesh Sapphire, 3 Beaches Mudcloth Earth, 3 Beaches Nordic Stripe Gravel, 3 Beaches Palm Paisley Aquamarine, 3 Beaches Palm Paisley Emerald, 3 Beaches Palm Paisley Morganite, 3 Beaches Palm Paisley Onyx, 3 Beaches Palm Paisley Pearl, 3 Beaches Palm Paisley Sapphire, 3 Beaches Peacock Aquamarine, 3 Beaches Peacock Emerald, 3 Beaches Peacock Morganite, 3 Beaches Peacock Onyx, 3 Beaches Peacock Pearl, 3 Beaches Peacock Sapphire, 3 Beaches Pure Broadwater, 3 Beaches Pure Denim, 3 Beaches Pure Ivory, 3 Beaches Pure Natural, 3 Beaches Rachel Gravel, 3 Beaches Refract Sand, 3 Beaches Scallop Aquamarine, 3 Beaches Scallop Emerald, 3 Beaches Scallop Morganite, 3 Beaches Scallop Onyx, 3 Beaches Scallop Pearl, 3 Beaches Scallop Sapphire, 3 Beaches Sisal Linen Sand, 3 Beaches Terrycloth Gravel, 3 Beaches Tribal Earth, 3 Beaches Verdant Gravel, 3 Beaches Verdant Sand, 3 Beaches Warm Grey, 3 Beaches Zipper Earth, 3 Beaches-Bar Stripe-Morganite, 3 Beaches-Bar Stripe-Sapphire, |