Outdoor Angled Bench Cushions
Cushion Factory offers bench cushions made to your very own design and this is the fun part of decorating your home. Adding custom made bench cushions in the fabric of your choice, turns that bench into a place that beckons you to relax in. And to have that bench space or window seat cushion custom made to fit exactly, creates harmony in your home. You dream it, we create it!
Design & Order Your Custom Indoor Bench Cushions Online:
Now is the exciting time when you get to design your indoor bench cushions. The process is simple. Follow the 5 steps below to choose your fabric, piping, filling, ties and set your ideal cushion measurements. Then simply set your quantity and place your order!
Once you have placed your order, please email us at sales@cushionfactory.com.au a sketch with all of the exact details of your cushion shape and size and we'll handle the rest for you. It's that easy.
If you have any trouble or would like to ask a question please call us on 1300 448 297 or send us a message.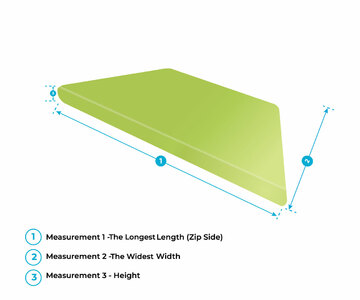 How to measure for Bench Cushions.
Measure the longest length of the cushion area

in millimetres

rounded to nearest 5mm. This is the side where we will place a concealed zip.
Measure the widest width of the cushion area

in millimetres

rounded to nearest 5mm.
Decide on what thickness you would like. Most bench cushions range from 50mm to 100mm. Most cushions are wrapped in dacron and therefore have an extra initial thickness of 30mm.